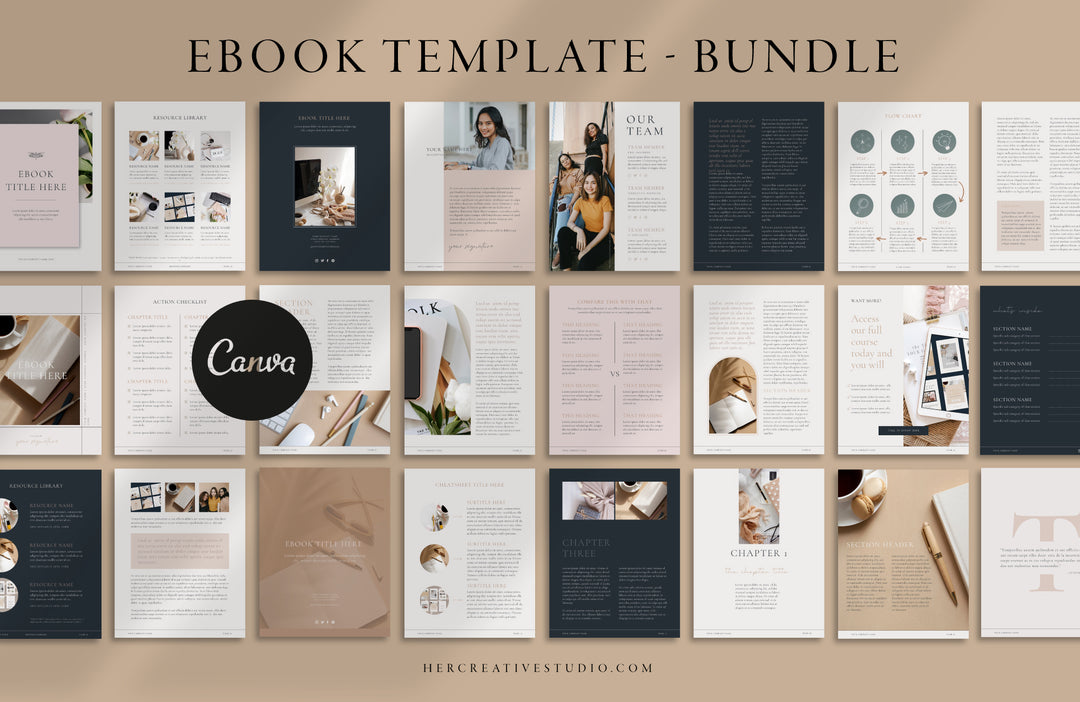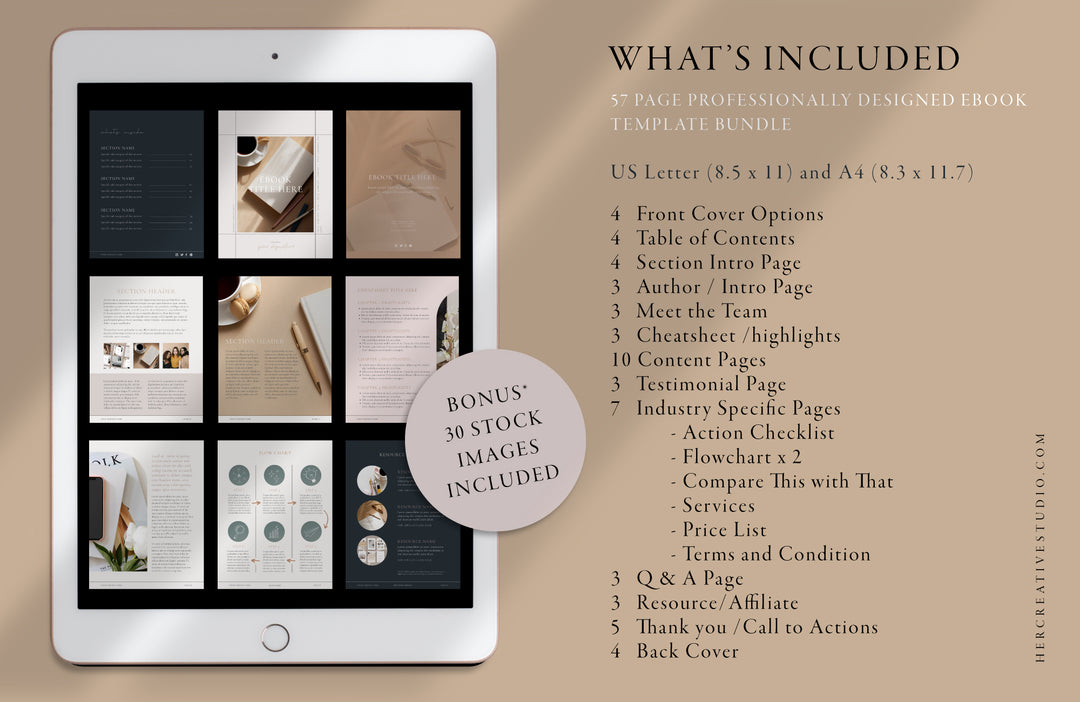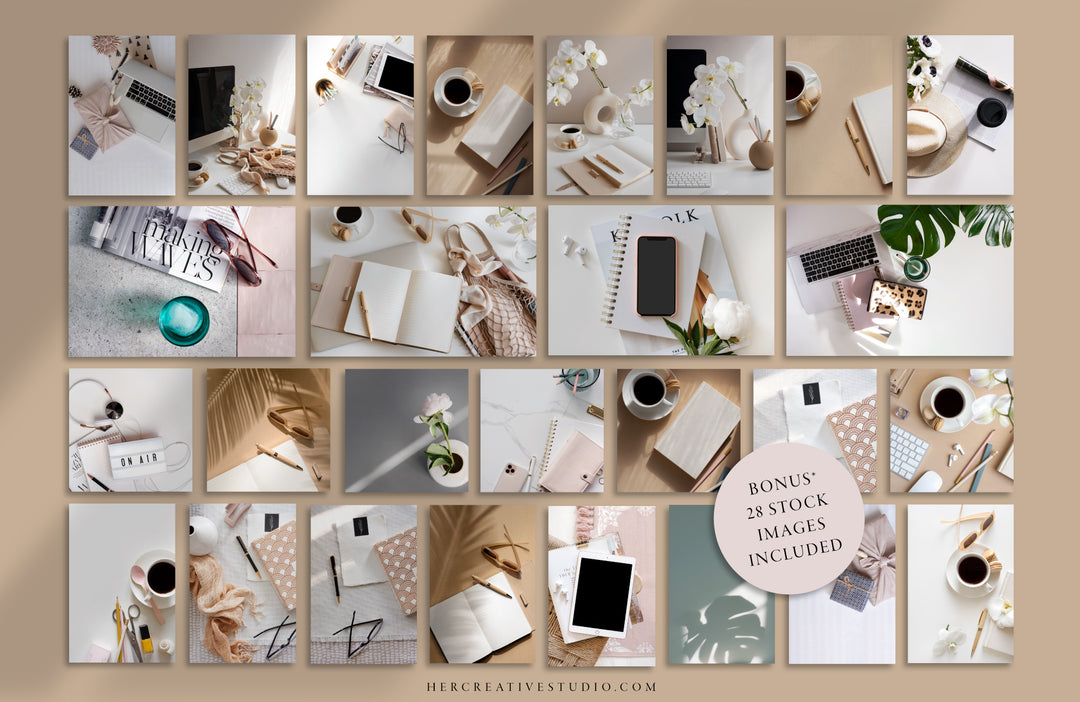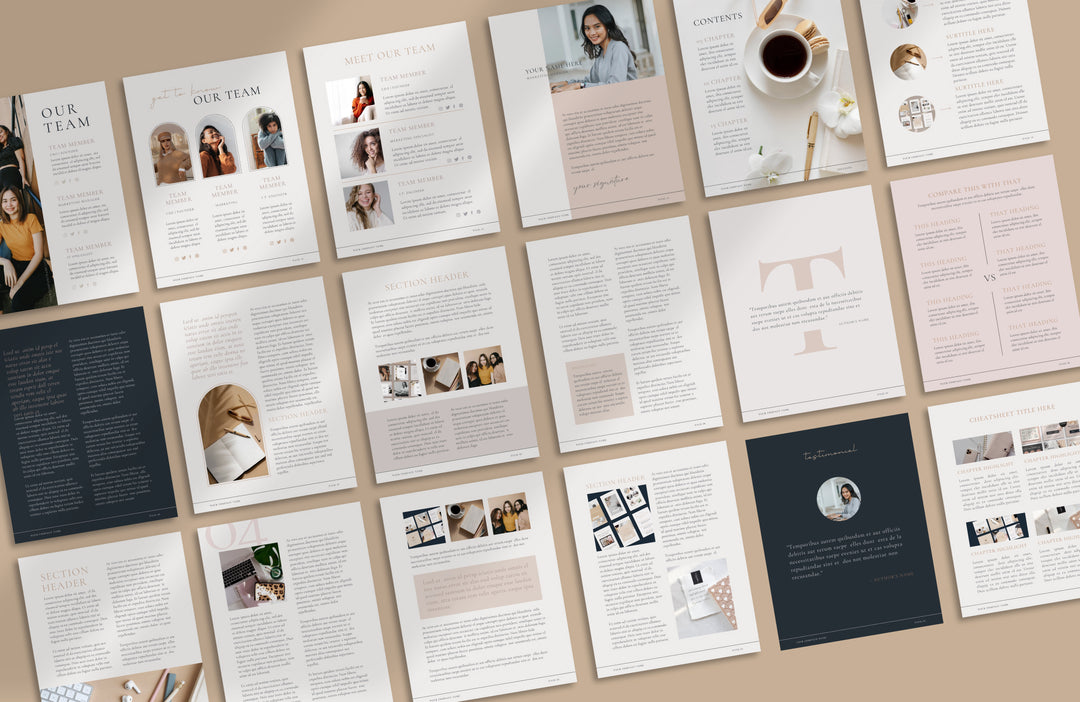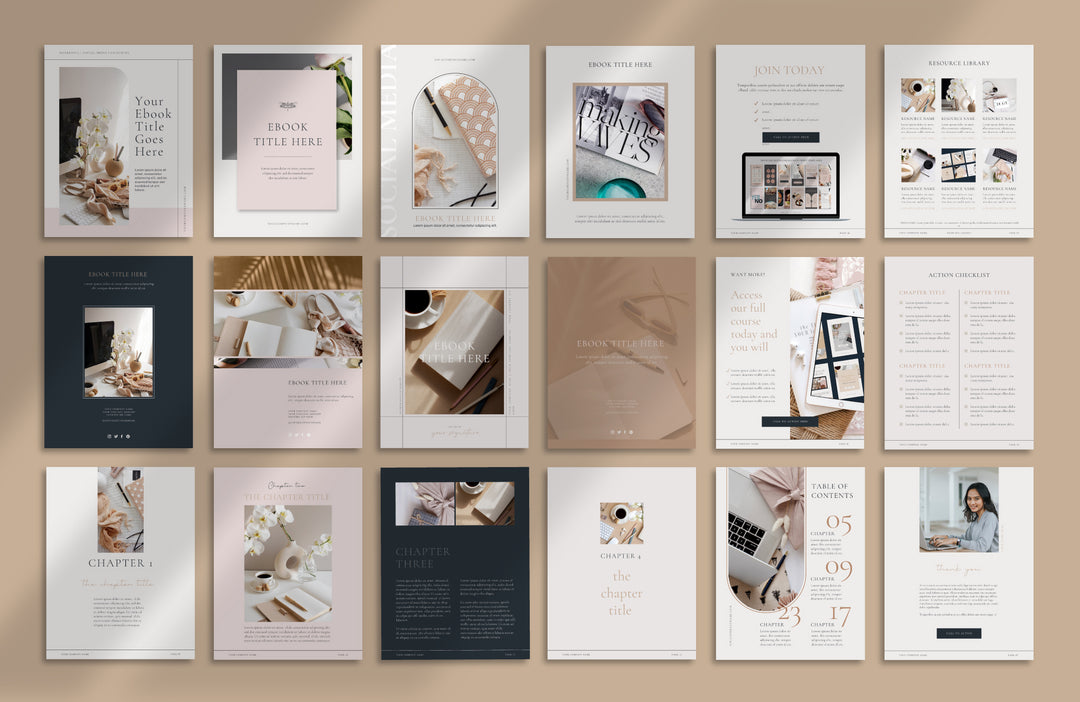 58 Page Ebook Template Bundle
Regular price
$47.00
Sale price
$27.00
Save $20.00
/
58 professionally designed templates that'll save you a ton of time and make creating content for your business a breeze. All the messy, complicated design know-how is done for you which means you can easily create and recreate on-brand marketing materials using this template bundle as your foundation. These drag-and-drop templates are 100% customizable so you can change the fonts, colours, images and add your own brand elements, easily.
DETAILS
• 58 Pages in US Letter & A4 sizes
• 100% Customizable
• Use as is or swap out fonts, colours and images.
BONUS* 28 Her Creative Studio stock images included**
PAGES INCLUDED:
-Front And Back Covers
-Table Of Contents
-Section Intro pages
-Author/Intro Page
-Meet The Team
-Cheat sheets/highlights
-Content Pages
-Testimonial Pages
-Flowcharts & Action Checklists
-Services & Price List
-Q&A Page
-Resource/Affiliate
-Thank you & Call To Action
PLEASE NOTE - this is a digital download product. No physical product will be shipped.

All Templates are compatible with a free Canva Account.
HOW TO ACCESS YOUR PURCHASE:
→ After purchase is complete, you'll see a link to download your files.
→ Simply download the .zip file with the PDF and stock images included in your purchase
→ Sign up for a FREE Canva account or log in to your account
→ Click the 'Access Templates' LINK under any collection in the PDF document and it will take you directly to your new Canva template.
→ Once in Canva, you can easily edit the colours, fonts and switch out the images to match your brand
→ When done, click Share to either download to your computer or save to your social media.
Viola, that's it!
When you purchase an image from Her Creative Studio you (the purchaser) agrees to a non-exclusive limited use license that allows for personal or professional use of the item.
Sandra Manton Mills remains the sole, exclusive owner and holder of the copyright for the image and you may not sell, lease, loan, transfer, share or give the image to a third-party to use in any way.


Standard License
Her Creative Studio offers a standard license for personal/business use. To simplify; you can use the images to promote yourself and your business online and in marketing material.
IE: Your website, your blog, your social media, business cards, postcards, headers etc..


Commercial License
Her Creative Studio's Commercial license allows you to use the images to sell or promote a digital product, service, or idea for you and your business. This includes DIGITAL products for resale. Unlimited uses is included in this license.
IE: Digital templates, website themes, e-greeting cards, facebook ads, PDF downloadable guide, ad campaign, social media, sales funnels etc.
At this time Her Creative Studio does not allow the use of the images on any physical products such as mugs, t-shirts, iphone cases etc..
Read full terms of use here
Q: What payments do you accept?
We accept Paypal and all major credit and debit cards.

Q: How long after purchase do I get my images?
Instantly! Once purchased, the file is available for download in the Order Confirmation page. You will automatically receive the standard order confirmation email, followed by an email containing a link to the file that will expire after 24 hrs.

Q: Can I get a refund?
Digital downloads are FINAL sale and due to the nature of the items, are not refundable. I want you to love your image as much as I do! If you are not happy or need further assistance please contact me right away and we will work together to find a resolution.

Q: What am I allowed to do with the images?
Tons! You may crop the image, overlay the image with your own design, add a filter or turn it black and white. You may adjust colours. Once you have added your product or image to the styled Photograph you (or anyone) may share it on social media for promotional purposes.
You may use the images to promote yourself and your own business. You can use it on your website, email campaigns, social media feeds, blog, webinars, handouts, ebooks etc. You may use the images for clients as samples only (proofing, mood boards etc.). You may purchase an extended license for commercial purposes in the shop.
Q: What am I not allowed to do with the images?


You are not allowed to share or resell the images in part or in whole.
You may not cut/paste and rearrange the props within the images. (Special permission may be given under certain circumstances. Contact me with any requests.)
You may not use the Images for any offensive, illegal or pornographic use.
You may not use the images to promote or sell other stock photography products, services, resources, courses, whether for free or paid.

Q: How often will new images be added?
Every single month! I'll work hard to keep the shop updated with new images so that you'll always have access to a large collection of bespoke images.

Q: What size are the images?
The majority of the images are 6016 x 4016 300dpi RGB jpg files.  If the image is a different size then it will be shown on the product detail page.

Q: Do I have to credit your images?
Credit is never required, but always appreciated. Remember to use #hercreativestudio so we can see how you use the images and even feature your business!
Q: Can you overlay my product for me, even if I pay you?


No, I do not offer graphic design services at this time. You can easily add your own touches using free programs like CANVA.

Q: Do I need Photoshop to use your images?
No! Although Photoshop and Illustrator are a must have in my arsenal, you can also use FREE programs like Picasa, Flickr, Gimp or (my personal recommendation) CANVA.